Many Swiss, foreign residents and tourists love Switzerland because it is simply beautiful and "special". You can definitely look forward to your stay in Switzerland!
High quality of life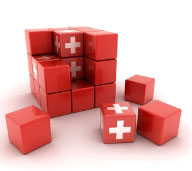 The quality of life is very high in Switzerland. The annually conducted Study by Mercer Consulting has been listing the cities of Zurich, Geneva and Berne among the top ten of more than 200 researched cities worldwide. Social, economic, political and ecological factors such as personal safety, education system, health care and traffic offers are globally above-average.
Switzerland's compact dimensions are especially favourable; it is easy to reach nearly every destination in a matter of 15 to 30 minutes when cycling in the countryside, or you can enjoy a comfortable ride through the most beautiful landscapes by taking the train or bus.
High standards
Similarly, Switzerland occupies top ranks with regard to wage level, buying power and price level (source: UBS purchasing power comparison). For this reason, especially the rental fees in Switzerland are higher-than-average. In spite of this, Zurich occupies first place worldwide in the buying power comparison.
Rental rates for an average three-bedroom apartment of 70 square meters (according to Homegate Miet-Map)
Pleasant
Besides the facts which describe Switzerland's amenities, life in Switzerland is described subjectively as very pleasant. The Swiss are perceived as reserved without being distant. Life is quiet and organised, and the landscape is regarded as extraordinarily beautiful and well-kept.
Interesting Links & PDF
[Link] swissinfo.ch - Switzerland: How To
[Link] swissinfo.ch - Swiss news
[Link] swissworld.org - Discover Switzerland
[Link] ch.ch - Facts & figures on Switzerland
[Link] expatica.com - Information for expats Switzerland
[PDF] Brochure 'Welcome to Switzerland'
Tourism & City info