The time as MitWohn Service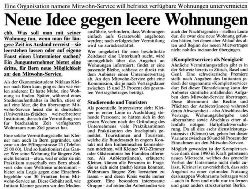 1990 - The new tenancy law is introduced in Switzerland: Subletting is now officially allowed by law - time to take advantage of this new opportunity.
1992 - Nik Kleiner, as a student, founds MitWohn Service Bern as Switzerland's first agency specialising in temporary furnished housing. First entry in the commercial register on 29 May 1992 as the sole proprietorship MitWohn Service Kleiner.
We run MitWohn Service as a company by students for students.
1995 - Programming of the first database programme based on Microsoft Access (until then we worked manually with lists of offers and interested parties...)..
1997 - Foundation of a branch in Basel - MitWohn Service becomes UMS - Untermietservice.
1999 - Foundation of a branch in Zurich.
2004 - The three branches in Bern, Basel and Zurich are merged in Bern. The database programme becomes multi-user capable.
2007 - UMS becomes a commercial apprentice company. Since then, we have trained 8 apprentices.
The time as UMS Ltd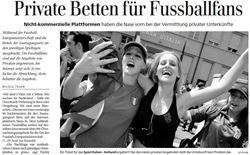 2008 - Foundation of the public limited company UMS AG - Temporary Housing Switzerland.
2008 - We implement a specific concept for the Football EURO 2008 and enjoy a nice media presence, which also boosts our main business.
2009 - Together with the Swiss Tourism Association (STV) we carry out a quality management programme and a customer survey and receive an above-average score of 3.6 out of 4. Our employees scored particularly well with almost 3.8 points.
2009 - UMS launches its new Internet portal together with the new IT application that we developed and programmed over almost a year in collaboration with ETH juniors - the student consultancy of ETH Zurich.
2012 - Daniel Schweizer, who programmed our first database program while still a student, joins UMS as a partner and co-owner and takes over our IT.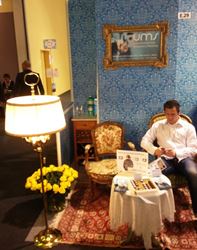 2013 - We show up at a trade fair for the first time - the Personal Swiss - and give away and receive many flowers. Among others, the prize for the most beautiful small stand.
2013 - We reach a turnover of CHF 1 million for the first time.
2015 - We expand to Germany with www.tempoFLAT.de.
2016 - UMS and tempoFLAT together broker over 1,000 apartments in one year for the first time.
2017 - Now it's time to expand to Austria with www.tempoFLAT.at.
2020 - During Corona, we lose ground - fewer business people and consultants come to Switzerland and even fewer people go on a world trip or take a sabbatical to rent out their flat during this time. At times we are losing more than half of our previous turnover. But: The glass remains half full - we are getting through the difficult phase quite well.
2021 - Since autumn we see a nice trend in the right direction. Things are looking up again!
2023 - Tanja Rappo, our long-time employee and boss, leaves us after 16.5 years... A drastic experience. But as the saying goes: You should also see the good side of everything. We thank Tanja for all the great years and wish her only the best for the future!