Public transport
Switzerland has a very good range of public transport. Switzerland is very comfortable, clean and punctual. Almost 90% of the trains reach their destinations on time or three minutes late at the very most.
The railway network has a long tradition and is one of the densest networks in Europe with 120 m/km2. Postal buses are available in locations where trains do not run. In this manner, you can comfortably reach almost any destination via the public transport.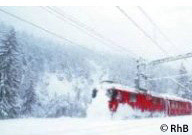 The public transport is used extensively. Each resident uses the train on an average of 50 times a year by train, covering a distance of 2'400 km (in comparison: Japan 71 rides / 2'000 km, Austria 26 rides / 1'250 km, Germany: 23 rides / 900 km).
Because of the topography of the country, Switzerland has gained worldwide reputation in tunnel & bridge construction. Overcoming the Alps by means of the Gotthard line more than 100 years ago is still regarded as a work of the century.
In 2008, an entire 12-km-stretch of the Rhaetian Railway (Canton of Graubünden) was selected as a World Heritage site and placed on the UNESCO World Heritage list.
Normal single tickets for train, bus and boat are relatively expensive. However, those who use the public transport on a more regular basis can purchase very convenient discount subscriptions.
Swiss public transport timetable


Travelcards & tickets

[Link] SBB Travelcards & tickets