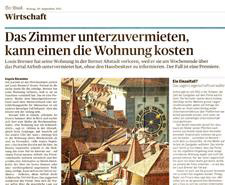 Termination by the landlord
If you ask too high a rent, the landlord can prohibit the sub-lease.
If you have already sub-let the apartment and not informed, or even intentionally deceived, the landlord, he or she can terminate your contract.
This can have unpleasant consequences for you beyond the loss of your apartment. A sub-tenant with whom you have an ongoing contract could also sue for damages for the loss of the apartment.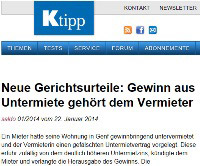 Paying back profits
The situation is even more critical if you have sub-leased in the past at an inflated rental. If your landlord finds out, he or she can demand that you repay the entire profit retroactively.
For example, a tenant in Geneva who sub-let his apartment at an excessive rental was ordered by the federal court to repay his profit of CHF 189,032 to his landlord (BGE 4A_594/2012).
No responsibility is taken for the correctness of this information.