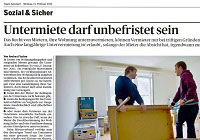 For how long can I sub-let my apartment?
There is no set time limit on a sub-lease. As long as you intend to return eventually, you are allowed to sub-let the apartment; for example, if you leave the country indefinitely for professional reasons (BGE 4C.155/2000) or if you move with your family to a larger apartment and intend to return to the original apartment as soon as your children have left home.
In the canton of Vaud there is a special regulation saying that you can not sub-let for an indefinite period of time if you sub-let the entire property.
What do I do if the sub-tenant falls into arrears?
If you book the UMS Security-Plus package , we collect the rent for you and keep you informed.
If you retain responsibility for rent collection, set your sub-tenant a payment deadline of 30 days and give notification that you will terminate the contract if he or she has not paid by the deadline. If the sub-tenant does not pay within the defined period, you can terminate the contract without notice at the end of the following month (Art. 257d OR).
Legal requirements in the case of termination
If it comes to a termination, it is very important that you use the official form as per Art. 266l OR of the Code of Obligations (OR), which can be obtained from the municipality in which the property is located.
If the property is rented to a married couple (or registered partnership), the termination or payment deadline with threat of termination (Art. 257d OR) must be sent to each partner separately (Art. 266n OR).
No responsibility is taken for the correctness of this information.